******HAPPY TAILS******
SQUIGGLES aka SQUIGGY
ADOPTED!!!!!!!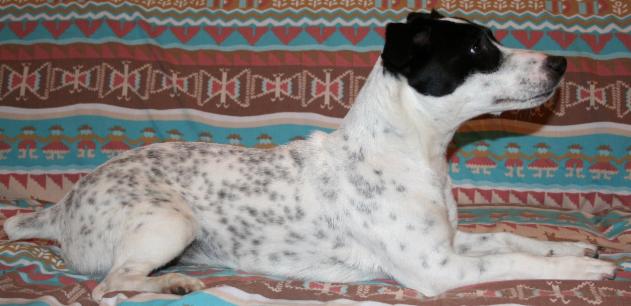 "LEVI STRAUS" aka Levi" has been adopted,

and now likes to be referred to as "PETE". He is enjoying his new lifestyle with his new mom, Abbie. Pete hopes someday to visit the local library and makingfriends there.

"
RICOCHET RIKKI" aka Rikki has been adopted by Steve, Linda and their Jack Russell Terrier "Duke" and now calls San Francisco, California home.

"FENDER BENDER" aka Benny has been adopted by Johnny & Laura. Benny enjoyed his first airplane flight, which was piloted by his new dad, from Mammoth Lakes, California to Nevada. Benny felt secure knowing that his new mom was the Co-pilot for the flight.

"LADY LUCY" aka "LUCY"
I took Lucy into my rescue program as an Owner Surrender. I'm happy to say that Lucy has been adopted by Frank, Penny, and the Jack Russell they have shared their lives with for the past two years, "Jill" and now lives in Northern California.
"WINSTON" aka "WINNIE"
Winnie is a ten year old Jack that came into my rescue as an Owner Surrender. Sadly, at his age I knew he would more than likely be over looked by prospective adoptor's. But as fate would have it I was contacted by a Sally from West Palm Beach, Florida who owned two older Jack Russells and sadly she had recently lost the male to cancer. She was looking for an older male Jack to help fill the recent void in her life as well as a companion for her female Jack Russell "Pebbles". Sally's "Adopter's Wish List" fit Winnie to a tee! Winnie is now enjoying his forever loving home with Pebbles and Sally.
"SEMI COLON" now lovingly named "GRACIE"
Gracie was rescued from Kern County Animal Control in Bakersfield, Ca. and has now found her forever loving home in Central California with Mathew, Michelle, and their parents.
"FLIRT" now named "OLLIE"
Flirt was rescued from Kern County Animal Control in Bakersfield, California and has been adopted, and now shares her life with Sandy & Lauren in Big Pine California.
"TUII GATEWAY"aka "TUII"
Tuii has been adopted by Conrad and now lives in Pasadena, Ca. And is being treated like the princess that she is!
"TERRI THE TERRIFIC TERRIER" aka "TERRI"
Terri has been adopted by Pete, Marci, & Tiffany and is enjoying life in June lake, California. During the week Terri gets to tag along with dad, Pete, to work, in his truck and live the Teancious Terrier life and is thankful for the second chance given to her from her new forever adoptive family.
"JUST DENIM" aka The Poof
Poof has been adopted by John and Susan and is living in Northern California. And especially thankful that his new family takes him with them on their sailboat!
"HOLLIE THE HOTTIE" aka Holly
Holly has been adopted by Stewart, Julie, and KB. Holly just graduated from her first formal training class> Good job KB & Holly!!!